Our Story
I created Edge Swim School because of my love of the sport and I want to inspire future generations so they have the skills and confidence to enjoy the sport as much as I do.
With the support of a dedicated team, we offer swimming lessons for both children from 3 ½ years of age, and adults throughout Surrey, and Hampshire.
My background (Andy Cooper - Founder & Swim Director / Teacher)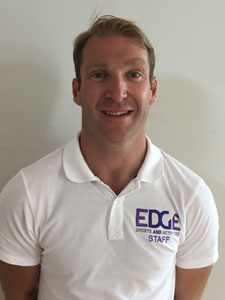 I have over 20 years teaching experience, during which time I've been recognised as 'outstanding', the driving force behind high quality PE teaching, mentored undergraduate students and delivered CPD sessions.
I started my career in the leisure industry, working as a lifeguard and swimming teacher. My love of sport and teaching led me to university where I obtained a degree in Sports Ccience and Leisure Management, followed by a PGCE in Secondary Physical Education.
As for my sporting background, my early years were spent in the pool as part of the Farnham Swimming Club squad. I also developed a love for hockey and water skiing. The latter took me across the pond to the USA where I trained and coached.
Nowadays, you'll find me playing competitive hockey for Alton Hockey Club. When I'm not on the hockey field, I'm either outdoors riding my mountain bike or coaching water skiing.
Edge Swim School team
Hollie Simpson, Swim Co-Ordinator / Swim Teacher
Hollie is our swim coordinator which means that not only does she teach lessons, she also does a lot of work behind the scenes organising and administrating as well as running our Saturday sessions at All Hallows. With over five years' experience teaching and a passion for swimming she is a key senior member of the Edge team. She always tries to bring the best out in her swimmers, loves to see them progress,  and considers 'water safety' a key life skill for everyone.
Having always been involved in sport throughout her life, she believes that being active is very important for both children and adults and encourages participation in all kinds of sports – whatever your interests might be. Outside of swimming you can find her on the netball court or enjoying time with her family and friends.
Jess Simpson, Swimming Teacher
Tirren Ambroziak, Swimming Teacher
Kellie Rigden, Swimming Teacher