Our Story
I created Edge Sports and Activities because of my love of sport and I want to inspire future generations so they have the skills and confidence to enjoy sport as much as I do.
With the support of a dedicated team, we offer swimming lessons, school holiday clubs and multi sports coaching for children from 3 years of age in Farnham, Chertsey and across Surrey.
My background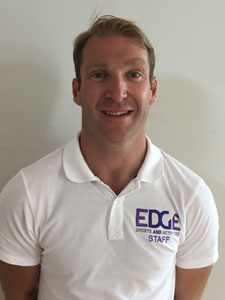 I have over 12 years teaching experience, during which time I've been recognised as 'outstanding', the driving force behind high quality PE teaching, mentored undergraduate students and delivered CPD sessions.
I started my career in the leisure industry, working as a lifeguard and swimming teacher. My love of sport and teaching led me to university where I obtained a degree in sport science and leisure management, followed by a PGCE in secondary physical education.
As for my sporting background, my early years were spent in the pool as part of the Farnham Swimming Club squad. I also developed a love of hockey and water skiing. The latter took me across the pond to the USA where I trained and coached.
Nowadays, you'll find me playing competitive hockey for Cheam Hockey Club. When I'm not on the hockey field, I'm either outdoors riding my mountain bike or coaching water skiing.
Meet the core team
Jane Stapleton, Sports Coach
Jane has over 20 years teaching experience in primary and secondary education.  She has taught a diverse range of abilities, successfully bringing out the best in children through quality teaching and a fair and professional approach.
As well as teaching PE, Jane has headed up netball squads and worked with local primary schools as part of community outreach to help increase sports participation.
Jane's love and enthusiasm for sport originates from playing netball. She was even capped to play for the England squad! After her professional netball playing career ended, Jane turned to coaching to help nurture and bring on the next generation of talent.
Outside of coaching, you'll either find Jane running or taking part in fitness classes.
Anette Drinkwater, School Holiday Club Co-ordinator
From working with children in schools, Anette has a wealth of knowledge and pastoral care skills. Her role is to counsel and guide her year groups, as well as promote well-being and happiness for each student. On top of this, Anette organises and runs school excursions and the summer school programme.
Prior to working within education, Anette was a retail team manager.
Chloe Parsons, Drama Co-ordinator
As the newest addition to the Edge family, Chloe brings an extensive background in theatre and television.  She has worked with an array of actors and directors on various plays, musicals, and television dramas and adverts.
More recently, Chloe qualified as a drama teacher from one of the UK's leading Drama schools – The Royal Central School of Speech and Drama. She also has an MA Applied Theatre, from the same drama school.
Chloe's love of teaching drama stems from for her own school experiences. She is a firm believer that drama not only helps to boost children's confidence, but that it increases their self-esteem and encourages them to recognise and believe in who they are.
James Colbert, Sports Coach
With James' love of sport and experience as a youth worker, becoming a physical education teacher was a natural progression after university.
He's now the head of physical education at Southborough School and a qualified rugby coach. He also specializes in teaching badminton and cricket.
James is a firm believer that sport is for all young people and that it can be interactive and fun.
Outside of his work, you'll find that James is either playing golf or doing fitness training.
Edge Swim School team
Dominic Hoskin, Swimming Teacher
Tirren Ambroziak, Swimming Teacher
Beth Newell, Swimming Teacher
Chloe Prior-Hardy, Pool Helper